FROM THE INSIDE OUT: WINTER TECH WEEK 2011
They say, "The devil is in the details." So is opportunity.
by Bob Chabot

Winter Tech Week (WTW) 2011 was a huge success. The nuts and bolts of presentations, the question and answer based discussions and the dialogue shared after business sessions during the social networking events serve as fuel for driving the business opportunities of equipment and tool makers, as well as others who were present. Those who attended WTW understand this; for those unable to attend, here's a recap for some of what you missed.

With over 100 delegates, 40 ETI member companies, and nine Asian home office-based automakers (OEMs) present, attendees got to hear first-hand the latest about:

Latest updates (standards and regulations), issues facing and concerns from the five ETI vertical groups - Scan Tool, Underhood, Under Car, Collision, and Shop Management and Information Software.
General ETI business affairs, which included updates about important issues facing the industry, such as right-to-repair (R2R), the TEK-NET Library, R-1234yf refrigerant, and more.
Asian OEMs share what you need to know now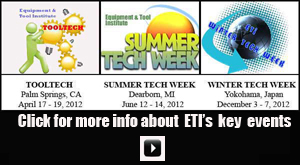 One key benefit of attending ETI events, such as WTW, is the receipt of all OEM presentations. While attendees do sign nondisclosure agreements, they can use the information and contacts provided to advance their equipment and tool businesses, products and services.

While Kia and Isuzu did not attend, the other nine Asian OEMs - Fuso, Honda, Hyundai, Mazda, Mitsubishi, Nissan, Subaru, Suzuki and Toyota - shared details about:

Their inbound 2012 vehicle models and insights into their future technological initiatives, some of which were present at WTW.

Scan tool data updates and service information for both mechanical and collision repair of current and incoming vehicles.
New equipment and tools required, including development and manufacturing opportunities for ETI members to work with a specific OEM.
Future plans regarding initiatives such as vehicle electrification, R-1234yf refrigerant intentions and the increasing infusion of high-tech materials - such as high-strength steels, advanced thermoplastics, carbon fiber and others during vehicle construction - and communication technologies.
Responses to specific questions from the five ETI groups that were submitted through Executive Manager, Charlie Gorman, in advance of the event, in addition to questions from the attendees in the audience.
ETI members present at WTW and other ETI events are sent copies of all the presentations shortly after each event. It's a key benefit of being there. Those who attend understand this; it is an opportunity cost for those who don't. Some of the less sensitive WTW presentation material will be made available for public viewing on the ETI website, under the Industry Outreach heading in the navigation bar.

ETI vertical groups work to identify and resolve industry concerns
The Shop Management and Information Software (SMG) agreed that aftermarket information providers have access to the same repair information as the dealership and independent shops. The SMG then discussed "What can this group do to help change that perception?" and communicated its consensus opinion and information to Gorman, so that he and ETI could use that information when communicating with ETI groups and the industry.

The SMG also suggested that ETI develop a list available to ETI members that identifies OEMs licensing programs for service information (with specific licensing agent contacts included). Central to developing this list, ETI needs to describe the specific "service information" of interest; each piece is very different and which pieces an OEM is willing to license varies from one automaker to another (e.g. parts, parts pricing, labor, repair procedures, data streams etc.). ETI's existing Scan Tool Data List could serve as a model to develop the suggested service information list.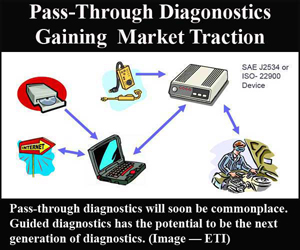 The Underhood Technology Group (UTG) provided an update for mobile air conditioning refrigerants. Suppliers are coming to market with recovery/recycling/recharging machines, new refrigerant identifiers, approved couplers and other equipment and tools for the new eco-friendly R-1234yf refrigerant. The U.S. Environmental Protection Agency does not require R-1234yf to be deployed yet; the Asian OEMs at WTW indicated that none of their 2012MY vehicles would have it.

On another note, two reputable refrigerant manufacturers - Dupont and Honeywell - have expressed concern that the automotive industry needs to be aware that there have been instances of counterfeit manufacturers contaminating mobile refrigerant R-134a with toxic and spontaneously explosive R-40, some of which have resulted in deaths and other injuries. Automotive need to be made aware of this issue and facilities that handle R-134a need to use refrigerant identifiers that can discern the presence of R-40.

The Scan Tool Group (STG) reported on several topics.

Bernie Carr, Bosch Diagnostics, provided a comprehensive overview of all the ISO and SAE specification work in progress as it pertains to scan tool companies.

Greg Potter provided an update on work being done on the SAE J2534 specification.

The original goal of SAE J2534 was to define a single interface that meets the needs of all vehicle manufacturers for emission related reprogramming, while insuring that all J2534 compliant devices operate identically and can be tested for compliance.Anyone who has dealt with reprogramming using the J2534 specification knows this has not been easy to accomplish. OEMs have different requirements and the current approved 04-04 version does not adequately specify how they should implement some reprogramming functions. Real world experience has identified areas where the current specification falls short of this goal and needs to be updated.

For the last 5 years or so SAE has been working on a new version now known as 05-00. Work is almost complete. The goal of this new version is to:


Clarify ambiguities in the 04-04 document

Focus on JUST reprogramming of OBD modules.

Make the API testable to J2534-3 Conformance Test Cases for an SAE J2534-1 Device

Move all items outside of the focus to J2534-2


These are important changes to the specification. OEM application software as well as device manufacturer software will have to be modified in order to comply. Once the new specification is released, it will be important for all parties to implement the changes as quickly as possible.

Some OEMs and aftermarket companies are using the J2534-1 pass through reprogramming spec for other purposes. Pass through diagnostics is becoming popular with some OEM and aftermarket companies. Quick implementation of the new spec. will go a long way toward assuring successful diagnostic product launches.

TEK-NET library redesign benefits users and lowers costs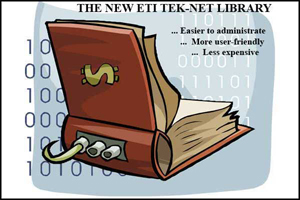 ETI will be phasing out its current library and replacing it with a new one that is less expensive, easier to administrate and more user-friendly. The old library required $16,000 in annual maintenance and indexing costs. When vendors uploaded files, they could not be compared to archived versions, which led to indexing overkill. This made it difficult to discern what was new; subsequently, the "field match" search interface did not provide desired access to the needed documents.

The new library, will address the above concerns. It allows unlimited users, unlimited storage and unlimited upload and download bandwidth. In addition, it is a lot less expensive. The new library incorporates many user-friendly features. These include:

Easier login access undefined ETI delegates will be able to manage their own group of users, restore their own passwords and permissions will be assigned based on the licenses owned.
Easy to learn file structure undefined File names will be the same as used by OEMs. A make/year tree-type structure filing system, identical to the one used for the DVD version of the library, will be implemented, which will enable easier and more accurate auditing.
Email notification undefined The new system will notify users whenever files are added to the library.
Bulk download files undefined Users can archive and compress files and folders to .tar or .gz formats and then extract them with the unpack tool.
An all-new "Notes" function undefined This new function will take the place of the indexing and abstract functions of the old database. This function allows user to attach non-permanent notes or comments to any file or folder allowing ideas to be easily shared and communicated to other users. Users can also include keywords or tags for files or folders, to allow users to locate them using the built-in Search function.
Simplified search capabilities undefined Users will be able to quickly locate important files or folders; searches options include users, keywords, tags, exact phrases, all the words, any words, perfect field matches, case sensitive matches, or file format.
Built-in log viewer undefined The log viewer allows admin to quickly and easily monitor user and admin activity and error logs generated by the library's software. The log displays the date and time an action was performed, which user performed it and any additional details regarding the action.
Before implementation, user logins will need to be transferred. Abstract and index information also needs to be secured. On January 1, 2012 the new system became operational, but the old system will run parallel for three months, then be decommisioned on April 1, 2012.

ETI offers "Right to Repair" (R2R) compromise ideas to Massachusetts' referendum
Proposed R2R legislation would require carmakers to provide certain information to aftermarket shops that may or may not be available now. Recently, the R2R proponents have found better success on the state level than the federal level. Massachusetts is currently in the batter's box.

There's a change of tactics in play too: proponents are using the public referendum process rather than normal legislation, a not fully-informed public may view R2R as a "David versus Goliath" issue, regardless of what information is available and accessible. Enough signatures have been gathered in Massachusetts to put a referendum on the ballot. If there is no compromise legislation passed by conventional means between now and May, 2012, the issue is scheduled to appear on the November 2012 ballot without any further edit.

When compared to previous proposals the referendum contains new requirements while eliminating, or at least not mentioning, others. Some provisions are the same as the older proposals. For example, OEMs must have an online repair information system. There is also a wireless (means telematics) requirement as well, which is not well defined and could be problematic. In addition, if someone isn't happy with an OEMs performance under this law, they must attempt to get the OEM to agree to binding arbitration or file an action in the superior court for relief.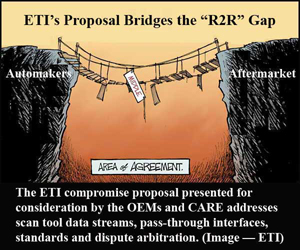 Amongst the new provisions, two have relevance with the ETI membership and its relationships with both automakers and the aftermarket. One would require that beginning with the 2015 model year, all diagnostic functions would be facilitated through a J2534 reprogramming interface device for aftermarket facilities. The other provision would mandate the provision of all vehicle security functions for 2002 and newer vehicles through the use of the National Automotive Service Task Force's Secure Data Release Model (SDRM).

Proponents and opponents to Right to Repair legislation have been attempting to work toward a compromise that will include some level of mandated regulation because while lobbying is expensive, advertising for referendums is even more expensive and a compromise solution would have a better chance of avoiding litigation after passage.

ETI has taken the position that, "as written," the referendum could cause more harm than good. One reason is that there are a significant number of OEMs that will not be able to comply by the required date, causing them to either have to cease sales in Massachusetts or take legal action challenging the law's validity. Additionally, there is no provision in the referendum requiring OEMs to provide scan tool data stream information to the aftermarket scan tool manufacturers.

To date, there have been some meetings between OEM groups and the Coalition of Automotive Repair Equality (CARE) organization. ETI was not a party to the earliest of these meetings, but given the above concerns, asked for and was granted permission attend and participate since. The aim of ETI is to put forward a compromise proposal that would facilitate a more workable compromise, including:

a clause that requires OEMs to provide data stream information to aftermarket scan tool companies
flexibility regarding what pass-through standard is used as long as that standard is sanctioned by an automotive standards body such as the Society of Automotive Engineers
Legislation must not block relevant new technology or innovation to existing technology. There must be provision to include future standards that may not have been invented, or implemented yet.
Provide more time for the OEMs to comply. The referendum's 2015 model implementation requirement is unachievable for some car makers.

Before arbitration or legal action can be used, ETI feels that the owner, service facility or manufacturer must first exhaust all options available to them through NASTF

Stay tuned. Better yet, plan to attend ToolTech 2012, Summer Tech Week 2012 and Winter Tech Week. It's just one of many reasons you should be there.


--###--