ETI TOOLTECH 2012

Take advantage of this opportunity to be a part of ToolTech

Company Showcase --◊-- Speakers --◊-- One-on-One Meetings --◊-- Networking

April 17-19, 2012
The Riviera, Palm Springs, California

OEM's and The Aftermarket…A New Direction…Renewed Partnership

It's time to take another look at the aftermarket's income potential by exploring the OEM's as a supplier rather than just a customer. OEM's have begun entering the aftermarket, and this presents new opportunities for ETI members to capture an emerging market.

Supporting OEM efforts to provide OEM products to the aftermarket using all of the distribution and marketing skills ETI members possess will facilitate three outcomes:

It it will open up new markets for ETI member products and services.
It will expand the number of aftermarket shops willing to take on diagnostic work, thus expanding the market size.
It will foster an environment of working together towards a common goal.

ETI members are the right companies to get OEM products into the aftermarket the right way. Not only are ETI manufacturing and OEM tool program relationships important, so are OEM and ETI marketing and distribution relationships. ETI members can help get to the traditional aftermarket, and can assist with entrance into some of the more difficult markets like mass merchandisers and specialty repair centers. This benefits everyone including motorists by enabling them to get all the repairs they need from a single source.

ToolTech 2012 is about adding value to your business through innovative formats, the latest information, and expanding your opportunities to do business in today's marketplace and preparing for tomorrow's challenges.

The Equipment and Tool Institute's ToolTech conference is an unparalleled opportunity for industry professionals to network and meet with OEMs, tool and equipment companies, national accounts, large suppliers, dealer groups, distributors, manufacturer reps, and many other industry leaders.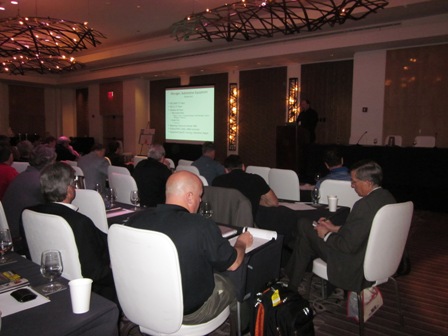 Speakers
ETI is working to secure industry leaders to speak on subjects and issues that are topical and important to ToolTech attendees.
Some of the topics we are working on include:


OEM's and The Aftermarket…A New Direction…Renewed Partnership
Bob Augustine, Technical Training Manager, Christian Brothers Automotive Corporation
Donny Seyfer AAM, Operations Manager, Seyfer Automotive, Inc.


Writing Software-OEM vs Aftermarket Applications
Scott Bolt, Manager Product Development (MAHLE Test Systems), MAHLE Powertrain, LLC


OEM Collision Repair in The Aftermarket
Panel


The New J2534…What Will Version 05 Mean To You?
Greg Potter, Director - Automotive Division, DG Technologies


OEM Tools Service Model Changes and Equipping The Aftermarket

The NASTF General Session will be held on Tuesday, April 17 in conjunction with ToolTech and will feature the following speakers:


Emissions Programs Update,
Worldwide Environmental Products Inc.
Training for the Aftermarket
Tony Molla, VP Communications, Automotive Service Excellence (ASE)

Company Showcase
The Company Showcase at ToolTech gives exhibitors the opportunity to display their products and services to attendees, speakers, and guests.

One-on-One Meetings
The One-on-One Meetings are pre-arranged, private, closed door meetings held during ToolTech. Companies can request to meet with specific OEM personnel, ETI companies, automotive service providers, manufacturers, distributors, and others. The requesting company has the opportunity to meet with key people in the industry, introduce their company, and discuss their products and services.


Networking Opportunities
Opening Reception
Showcase
Showcase Happy Hour
Closing Dinner
Golf Outing