AUTO INDUSTRY GEARS UP FOR R-134a CONTAMINATION
Automobile a/c systems contaminated with R-40 are currently unrepairable
by Bob Chabot
Refrigerant contamination has been a long-standing concern, but recently the stakes have been raised. "Virgin" R-134a cylinders as well as R-134a air conditioning (a/c) systems have been found to be contaminated with dangerous levels of R-40 or R-40/R-22 blends. At first, the problem was isolated outside the automobile industry. But that's changed.
Several months ago, the Refrigerant Analysis Division of Neutronics Inc. was engaged by the Maersk Line, the global shipping container division of the A.P. Moller - Maersk Group, to assist with a R-134a refrigerant contamination problem in shipping containers that resulted in several deaths and a significant interruption to ocean transport. In some cases, virgin R-134a cylinders were found with R-40 contamination levels as high as 30 to 40 percent. Since then, incidents have been reported in other industries, including automotive.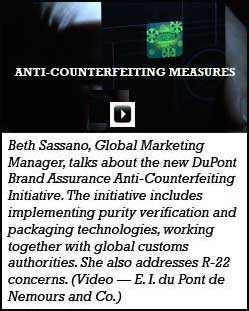 Contamination of R-134a by R-40 threatens technician, shop and equipment safety
"Both R-40 and R-40 blends have been discovered in 30-pound cylinders and a/c systems fraudulently labelled as R-134a," explains Ward Atkinson, co-chair of the Society of Automotive Engineers (SAE) Interior Climate Control Standards Committee (ICCSC). "Although there is no indication that cylinders or a/c systems containing R-40 or R-40/R-22 blends are in the North American automotive marketplace yet, incidents elsewhere in the world indicate there is potential this could occur here."
"These blends can damage mobile a/c systems and service equipment, let alone do physical harm," cautions Atkinson. R-22 is incompatible with most automotive a/c system elastomers (such as flexible refrigerant lines, O-rings or gaskets), which could lead to a/c system leakage problems.
R-40 is even worse. This contaminant is extremely toxic, flammable and highly reactive when exposed to aluminum — commonly used in a/c systems — to form a third, highly volatile compound known as trimethyl aluminum that is explosive upon contact with air. R-40 is a harmful and dangerous material that is not suited for use in automotive R-134a a/c systems. When present, the consequences can be expensive, let alone devastating.
Since December 2011, automotive refrigerant cylinders labeled as R-134a and automotive a/c systems have been found to be contaminated with R-40 and R-40/R-22 blends. Klima Tec Webasto Servicecenter, a German automotive a/c firm, has documented cases of R-134a-labelled a/c systems in American and other military vehicles returning from service in Afghanistan contaminated with either R-40 or R-40/R-22 blends.
In addition, Klima Tec and several other European a/c firms have reported incidents involving passenger vehicles. Peter Coll, vice president of Neutronics Refrigerant Analysis, also affirms that R-40 contamination cases involving passenger cars, trucks and military vehicles have also been reported in India, Afghanistan and the Middle East.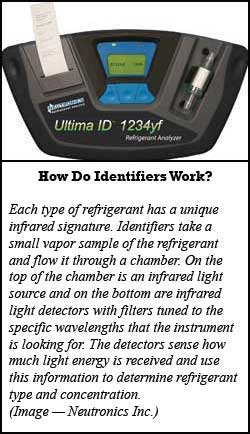 Automotive a/c industry stakeholders are taking precautionary action
Both parties agree that taking immediate precautionary measures to protect the industry, participants and its customers is a warranted first step.
"Customs, port authorities, the Coast Guard and other federal agencies are aware of the problem and are looking more closely at the documentation and physical packaging of the materials coming into the country," explains Coll. "They are being supported in their efforts by bona fide refrigerant manufacturers."
DuPont, Honeywell, Mexichem Fluor and other refrigerant manufacturers have ramped up anti-counterfeiting efforts and instituted new security measures and technologies to detect counterfeit refrigerants more quickly. Refrigerant, equipment and tool manufacturers are increasing awareness among end-use customers about the risks of using counterfeit products and the merits of using manufacturer-authorized suppliers.
Their aim is to inform shops and technicians about what preventive measures can be employed to ensure that they do not receive and use counterfeit products contaminated with R-40 or R-40/R-22 blends. In addition, they are working to combat counterfeit activity, by removing internet store-front listings of counterfeit refrigerants, conducting investigations, training customs officials, assisting law enforcement in conducting raids and seizure of refrigerant goods in multiple regions, and establishing innovative product identification methods and technologies.
Consider these recent statements from refrigerant manufacturers:
"We have invested substantial resources to develop and commercialize our innovative refrigerant technology," says Paul Sanders, Honeywell's managing director for Europe, Middle East, Africa and India. "We are taking the necessary actions to protect that investment and ensure that users get the high-quality product they need."
"We've seen evidence of counterfeiting in virtually every region and across multiple product lines," states Greg Rubin, global business manager, DuPont Refrigerants. "The contamination problem is real and it is growing, and the impact can include significant injury and tragic loss of life. DuPont will continue efforts to educate the industry on the problems posed by counterfeit refrigerants in the marketplace and be vigilant in its investigations to uncover the source of counterfeit materials."
"Counterfeit refrigerants are extremely dangerous and alarmingly more widely available in the market," says Rafael Dávalos, Mexichem Fluor CEO. "Be wary of R-134a being sold well below the current market price. This could be a tip-off that the product may be counterfeit and not what you need."
Accurate refrigerant identification and analysis is crucial — before service
"We have no specific information yet as to what the European automakers are doing regarding R134a service," shares Coll. "But we do know that the German Association of the Automotive Industry (VDA) members — Audi, VW, Porsche, Opel, Ford, BMW, and Daimler — are requiring refrigerant analyzers that will be used on their new R-1234yf cars must detect 1.5 percent R40 and reject any higher concentration."
Requiring that identifiers be able to detect R-40 suggests that automakers believe the contamination problem necessitates that precautionary steps be taken now. Expect future refrigerant identifiers that are planned to be integrated in new R-1234yf service machines to also be able to recognize the presence of R-40 and other refrigerants.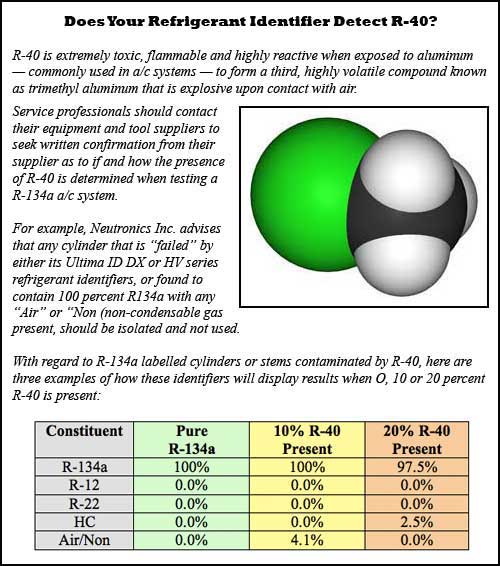 Coll says that existing refrigerant identification tools are not able to specifically identify and measure the presence of R-40 or R-40/R-22 blends in R-134a systems. The challenge faced by a/c equipment and tool manufacturers is that developing a special application to identify R-40 or R-40/R-22 blends would result in a substantially more expensive tool for which there may not be sufficient demand to justify its purchase by aftermarket a/c shops.
"We are not aware of any identifier from any manufacturer that is currently capable of detecting small amounts of R40 in R134a," Coll explains. "We will have a new unit available in April 2012 that will reject any R134a that is not 98 percent pure. As an example, if a sample was 97 percent R134a, and the balance was R40, the display would read '97 percent R134a, 3 percent unknown.'"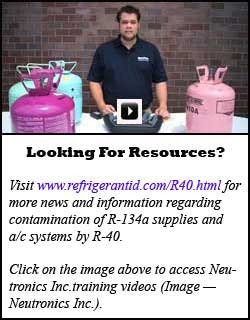 Recommendations for automotive service shops and technicians
As important as precautionary, prevention and quality advice is, one crucial question remains: What does a shop or technician do if a R-40 contamination shows up in a vehicle being serviced? The realities of dealing with this contamination issue are stark and expensive from a prevention perspective. The consequences, should an a/c system being serviced at your facility be found to be contaminated with R-40, are worse.
"As far as R-134a contaminants are concerned, R-40 is about as bad as it can get," Coll advises. "Currently, if R40 is found in a system, the system is considered unrepairable. There is no safe and approved solution for removal of the refrigerant and neutralization of the aluminum compound that may have been formed."
Resolving the contamination requires the collaborative effort of industry stakeholders — automakers, equipment and tool manufacturers, suppliers and distributors, service facilities, technicians, educators, regulators and others. "Neutronics continues to work closely with SAE, the Mobile Air Conditioning Society (MACS), Air Conditioning Heating and Refrigeration Insitute (AHRI) and all other pertinent organizations to help mitigate this very troublesome development," Coll adds. "For example, research is being conducted by SAE and other industries to determine safe removal and disposal methods."
Atkinson concurs. "The SAE ICCSC is actively working on guidelines to determine if and what percentage of R-40 is present in an a/c system, safely removing R-40 from an a/c system being serviced, what technician training is needed, protecting vehicle occupants from toxic exposure should R-40 leak from aluminum evaporators in a vehicle a/c system and other initiatives."
When asked what various types of automotive organizations could do — right now and over the longer term — to prevent, detect and measure R-40 contamination, Coll offered the following advice: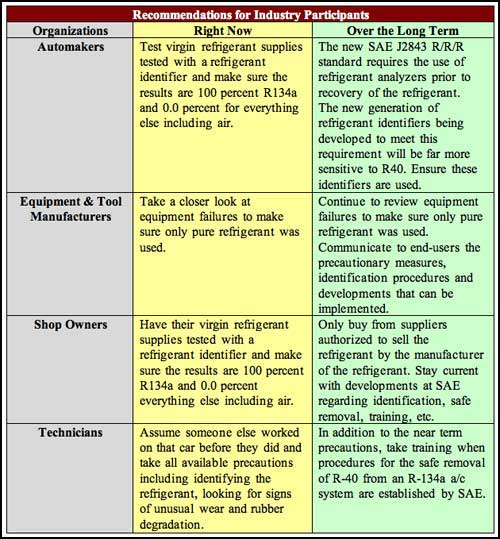 In the interim, while standardized safety, R-40 removal procedures and training regimens are developed and established, service professionals should recognize that existing and unauthorized emerging a/c industry service workarounds to R-40 contamination put people, equipment and vehicles at risk. Until then, stay informed about progress towards solutions that reputable industry bodies are making, commit to being quality conscious and verify refrigerant purity both at purchase and before servicing any vehicle a/c system. After all, no one needs to turn a risk into a liability.