| | |
| --- | --- |
| News for Automotive Tool and Equipment Professionals | June 2013 |
ETI Leadership Weighs in on this Year's Summer Tech Week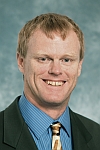 Ben Johnson, ETI President
I'm writing this while on the plane returning from another great Summer Tech Week in Detroit. For those of you who do not take advantage of this benefit of being part of ETI, I encourage you to reconsider. The knowledge gained above and beyond the "data feeds" we'll get from the OEMs as part of this week and the opportunities to build relationships is valuable beyond measure.

For me, one of the most exciting takeaways was the "renewed energy" I felt from ALL the OEMs presenting! I think it is now safe to say "Detroit is back!" – And that's a great thing to see! It will be interesting to watch as all the technologies in Diesel, Gasoline Direct Injection with turbochargers and electric/hybrid continue to keep all those options viable. I wouldn't want to predict yet which will ultimately win-out. But for the short to mid-term, it's a safe bet we'll see all of them continuing to evolve. It is great to see we're exceeding our MPG goals while continuing to produce vehicles which are fun to drive and own!

With this continual evolution come new challenges.

The relationships we have with the OEMs are more important than ever to insure these vehicles are serviceable throughout their useful life. Without these relationships customer dissatisfaction could quickly reverse the positive trend we're feeling and put the industry (both car sales and service) in jeopardy.

At ETI we continue to take steps to insure our relationships are secure and that our membership and our OEM partners get value from participation. That being said, we rely on our membership for feedback – let us know how we can best serve you. If you haven't filled out the feedback forms provided, send us an e-mail at ETI and let us know how we did – and any ideas for improvement.

Again, I'm honored to be president of ETI this year. Thank you for your support!


Charlie Gorman, ETI Executive Manager
Vertical Group meetings are an important part of every ETI Tech Week. It is the portion of the meetings where product managers, engineers and other key tool and equipment company employees get to participate in presentations and discussions regarding issues faced by all ETI member companies. It is one of those rare moments when fierce competitors leave their guns at the door and try to solve common industry problems that can be best solved as an industry rather than as individual companies. It isn't the number one reason companies join ETI, but it is one of the reasons so many companies stay.

I want to thank all of the Vertical Group Chairmen and presenters for the hard work and valuable information they shared. In particular I'd like to thank Bernie Carr for preparing and Greg Potter for presenting the detailed ISO/SAE/Government Regulation presentation. This report is an extremely valuable guide through countless ISO and SAE technical committees and documents along with important information on existing and proposed government legislation and regulations.

For many months now ETI has been working on a replacement for the existing on-line version of the TEK-NET Library. At this year's Scan Tool Group meeting, I'm proud to say, we introduced and demonstrated the new working version. Early reports indicate that we got it right this time. This version is easy to use, easy to access and has more features than we will ever use. Additionally, all new files from OEMs are uploaded when we receive them and you will be notified via email when they are available.

The new service utilizes a cloud based solution provided by Filesanywhere.com. Access can be gained from ETI's website. Unlike the old library this one does not provide overview access to non members. When you click on the link you go directly to the login page. Some of the features include:


Works like Windows Explorer, only better.
Quick search engine using any word or phrase, or can be done on file name, comments or tags.
Strong security
Ability to tag and comment on any document

Files are listed by make and then the dates the information was provided.
Works on any platform – Java based – special apps for mobile and tablet use.
Bulk uploads and downloads
You can change your own password
We are signing up users now. Send an email to Trisha at Trishad@etools.org to get the process started. At first we are going to register key Scan Tool individuals from each Scan Tool Group member company, but this library can be used by the other vertical groups as well. If you have an idea for a use case, give me a call and we can discuss.


Jessie Korosec, ETI Marketing Manager
Thank you to all of the ETI Members and OEM Personnel who attended Summer Tech Week.

More than 90 ETI Members and OEM personnel from over 35 companies attended this year's Summer Tech Week to take part in meetings and presentations covering new models and equipment requirements. According to comments written in the critiques we have received from this year's event, highlights included mission critical presentations from each OEM regarding their unique requirements when it comes to service tools, being able to interact with service engineers at their facilities and the ability to see/touch the new models coming out this year and next.

We can't leave Detroit without showing our appreciation to all of the automakers for their contribution to the tool and equipment industry. This year's OEM Appreciation Dinner was held on the grounds of the Edsel and Eleanor Ford House in Grosse Pointe Shores on Lake St. Clair. Attendees were treated to a reception and dinner as well as tours of the house and garage which reflect the Fords' love of art, design and architecture.

ETI is busy planning for Winter Tech Week2013 and ToolTech 2014 and we hope to see all of you there. Don't miss out on your opportunity to have valuable industry access, learn about new technologies, stay informed on industry issues and directions, make new contacts, and strengthen your business relationships through continued networking at these events.

Save The Date for these upcoming ETI Events

ETI Winter Tech Week 2013
When: December 3-5, 2013
Where: Hyatt Regency Newport Beach, Newport Beach, California

ToolTech 2014
When: April 29 - May 1, 2014
Where: Fairmont Mission Inn, Sonoma, California

Industry Insights
Soon, waving a finger will switch radio stations
Automotive News
Gesture control, the use of hand gestures to control a vehicle's infotainment system, is gaining momentum. Suppliers are developing technologies that allow motorists and passengers to adjust a vehicle's audio, climate control or navigation system through motion sensors. The technology works like Microsoft's Kinect game system. At the 2012 Consumer Electronics Show in Las Vegas, Audi AG showed how a vehicle's occupants might use gestures to control head-up displays. Hyundai Motor Co. introduced a similar system in its HCD-14 concept at the Detroit auto show in January. And Panasonic Inc. is developing a system for occupants in the front or back seats.
Read More


Auto industry poised for big hiring spree
USA Today
The auto industry is about to go on a hiring spree as car makers and parts suppliers race to find engineers, technicians and factory workers to build the next generation of vehicles. The new employees will be part of a larger, busier workforce. From coast to coast, the industry is in top gear. Factories are operating at about 95% of capacity, and many are already running three shifts. As a result, some auto and parts companies are doing something they've been reluctant to consider since the recession: Adding floor space and spending millions of dollars on new equipment.
Read More

Congress and oil producers keep pressure on EPA over ethanol rules
vehicleservicepros.com
The House Committee on Oversight and Government Reform recently held a hearing to discuss the Environmental Protection Agency's (EPA) position on the Renewable Fuel Standard (RFS) and the concerns that EPA's actions have had on consumers, the vehicle industry and farmers, according to the Automotive Aftermarket Industry Association (AAIA). Congress and oil producers continue to pressure the EPA on their decision regarding increasing the percentage of ethanol permitted in gasoline.
Read More

New SEMA Research Shows $31 Billion In Automotive Parts, Accessories Sales
Aftermarket News
Sales of automotive specialty equipment products continue to climb, with sales in 2012 reaching $31 billion, according to the 2013 SEMA Annual Market Report. This figure represents a 4 percent increase over the previous year, and marks the third consecutive year of growth, according to the association. "The report's findings are consistent with what we are seeing and hearing in the industry," said Chris Kersting, SEMA president and CEO. "Having experienced significant economic challenges over the past several years, the specialty parts and accessories market is ready and eager to do business. Companies have a more positive outlook about the future and are finding ways to grow the market."
Read More

Business Buzz
Five Key Steps to Habit Change
LinkedIn
Last week I heard about an executive who had a self-defeating leadership habit: whenever a direct report's performance disappointed him, he launched into a vicious attack on that person. The results were always negative: the person felt awful and his performance suffered as a result – and the relationship between the executive and that direct report became toxic. In addition such a leader misses a teachable moment: a chance for constructive feedback on what the person needs to do differently or better in the future.
Read More

3 Stealth Ways to Network at Conferences
LinkedIn
Over the past decade, I have attended on average one conference a week, every week, every year. Seriously. Why would I make that up? As a speaker, I've shared a message at more than 500 conventions, trade shows, and company meetings. So, I've learned how to make the most out of my days on the conference-room floor.
Read More

8 Words to Avoid When Selling
Inc.
Over the two years, I've read hundreds of sales messages and heard dozens of sales presentations. Probably 90 percent of them are full of words that are both trite and ineffective. Here are the worst offenders:
Read More

4 Ways to Make Smarter Decisions
Inc.
Assumptions and biases get in the way of making better business decisions. Learn to root them out with these tips. Decision making is critical in a business, and entrepreneurs often pride themselves on decisiveness. But as Chip Heath, a professor at the Stanford Graduate School of Business, and McKinsey consultant Olivier Sibony discussed recently in McKinsey Quarterly, decision making in businesses is often poor because of both personal and systemic problems.
Read More

Wise Words
"Change the way you look at things, and what you're looking at changes". Dr. Wayne Dyer

You are receiving this message because either you or a friend opted you in at
www.etools.org