ARE YOU "SERVICE-READY" TO REPAIR HIGH-STRENGTH STEELS?
I-CAR Launches "Best Practices For High-Strength Steel Repair" Course
by Bob Chabot


Collision facilities need to be "service-ready" for high- and ultrahigh-strength steels (HSS and UHSS). Too many in the collision industry today are unaware of these new steels, let alone how these materials need to be handled to effect a complete, safe repair of modern automobiles. To meet this challenge, a brand new course from the Inter-Industry Conference on Auto Collision Repair (I-CAR) titled Best Practices for High-Strength Steel (SPS09) launched on February 27, 2012.

Three out of four doesn't cut it anymore
Demand for more stringent emissions, improved performance and safer vehicles are driving this technological tsunami. OEMs are reducing vehicle mass by using lighter but stronger materials - namely new steels and alloys, thermoplastics and carbon fiber-reinforced composites. The increased HSS content in vehicles requires new tools, equipment, knowledge and training. Those that opt out will face dire consequences, including increased liability, less business opportunity and ultimately, a real test of their survivability.

Collision facilities and professionals must keep pace with innovation. The struggle to juggle four key resource areas - current and accurate service information, the right equipment and tools, proper techniques and appropriate training - is a daunting challenge. From now on, the collision repair "sweet spot" requires that all four areas being integrated into shop operations. Three out of four just is no longer good enough; full repair competency requires an all-in attitude.

The new course was developed with a collaborative effort that brought together using a wide range of industry partners -original equipment manufacturers (OEMs), tool and equipment manufacturers, collision facilities, technicians, insurers and educators. It's thrust: provide a practical solution for collision repairs that involve HSS.

"The HSS best practices shared in the new course are industry-driven," shared Jason Bartanen, I-CAR technical director. "They were designed by our subject matter experts - industry partners who work with HSS in the real world."

Commit to being "service-ready"
"The new best practices course is one of the most significant courses that I-CAR has developed over the past 30 years," Bartanen added. "Vehicles have changed, steels have gotten stronger, and new equipment, tools, and repair techniques have evolved."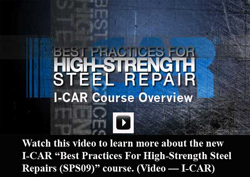 "In addition, the HSS best practices shared in the new course are industry-driven," he continued. "They were designed by inter-industry subject matter experts, industry partners who work with HSS in the real world.

"For example, developing an effective repair plan is an essential best practice to achieve a complete and safe repair and helps ensure that five-star crash ratings are not compromised," Bartanen emphasized. "For another, our industry partners told us that we must employ consistent methodologies for identifying and analyzing damage and repair methods across the various industry segments."

"The mix of steels used to build vehicles is constantly changing," explained Tim Morgan, Managing Director - Americas, Elektron Inc.; he also serves the industry as chair of the Equipment and Tool Institute's Collision Vertical Group. "It may not change just from year to year either; it could also change mid-year. So if you have a newer vehicle in your shop, and the manufacturing process changed mid-year, there could be two different collision repair processes for the same model."

Fill your gaps: train to leverage information, tools and equipment and techniques
"The new designs and content of vehicles in how they are built is making the repair more difficult," Morgan shared. "The biggest challenge I see in the industry today is getting the correct education to collision technicians - making them understand what the new vehicle content and repair processes are."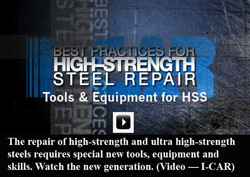 "The training offered through Best Practices for High-Strength Steel Repair course deals with these changes, but it is not so much theory-based as it is practical," advised Scott Van Hulle, the I-CAR instructional designer responsible for writing the new course."

"It is focused on actually making repairs where HSS are present. Collision facilities and steel structural technicians can implement those practices today."

The course covers three main sections:

Developing a repair plan - Learn to identify direction and severity of damage, types of steel, and where sectioning and reinforcement are involved.
Straightening and removal methods - Gain a practical understanding about what types of benches, anchor points, stress relief, pulling and cutting considerations HSS requires.
Attachment methods - HSS requires different rivet bonding, weld bonding and MIG brazing techniques.
"Repair facilities must know what automakers do and do not recommend before repairing parts and structures that contain various types of HSS," Van Hulle continued. "Identifying all the steels and information in essential when preparing a repair plan. The new best practices course is designed to help technicians when this information is not available or difficult to find."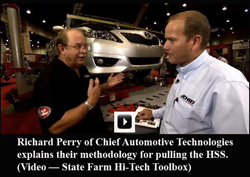 Given the sheer volume of information, let alone the variance from automaker to automaker, Van Hulle shared that it was difficult to digest and condense all that was available into a concise course that covers the material thoroughly. The guidance of I-CAR's industry partners to employ consistent methodologies helped here.

"For example, we developed a 'General Repairability Matrix' for the course," Van Hulle noted. "One of the confusing points is what each OEM calls their steels. This matrix classifies what each automaker specifies as mild, high-strength and ultrahigh-strength steels. It also lists individual automakers recommendations, specific to the HSS in their vehicles, for when MIG brazing, spot welding, cold-straightening, heat-straightening, or other techniques are appropriate. The matrix helps us manage this flow and identifies gaps that that I-CAR can address."

"It is important to understand that automakers are coming out with much more collision information on a regular basis," Bartanen added. "We can update the matrix frequently and highlight those OEMs who are doing a great job of providing collision repair info, while also working those manufacturers that don't have much information out there. Then if a technician doesn't have good information regarding an automaker's recommendations, the best practices course, matrix and other insights will at least provide some direction about how to approach a repair."

Future-watch: Keeping vehicles and occupants safe over time
Safety doesn't end with the original vehicle manufacture. Nor can it be allowed to erode from a collision repair. The pervasive growth of integrated active safety systems may limit, but is unlikely to prevent all accidents. Vehicles will still need to be repaired.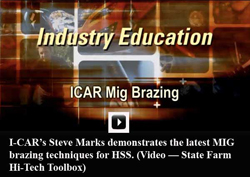 Armed with the right knowledge, service information, and training regarding HSS, collision professionals can competently anchor, measure, straighten, perform advanced joining techniques and effect partial or complete part replacement - with the confidence that they have not compromised the integrity of vehicles or their owners.

Collision facilities must restore a vehicle, now and in the future, to its original safety specifications before it leaves the shop, in case another accident occurs afterward. Should evidence of initial substandard repair be discovered later, the legal and financial risk, if actualized, could be devastating. Incompetence, indifference and ignorance are not solid defenses.

"The outcomes for safety are critical," advised Mark Kadrovach, a collision/workshop product support specialist for Audi of America Inc. "When we, as vehicle manufacturers, build such good cars, it is imperative that when a car has to be repaired, it is repaired correctly, To not do this could hinder the lives of people who are in the vehicle."

HSS are not the end of the story
Audi and other OEMs are not only building vehicles with increasing content from HSS, titanium and other alloys; they are also ramping up the content from other innovative, lightweight, strong and safe materials.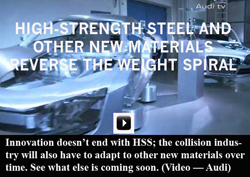 These include advanced thermoplastics and multiple grades of reinforced carbon fiber, which like steels, have separate grades and subsequently, unique repair techniques, equipment and tools, service information. Training will be required too; it has already begun; For example, I-CAR has already presented several carbon fiber repair sessions at industry events.

"We will continue to provide I-CAR instructors with the latest information so it can be shared in courses with the industry," Bartanen promised. "I-CAR is also accelerating course revisions and updates, to keep pace with the rapid change the industry experiences."

"Don't be surprised if you see more hands-on training being done in shop situations during some future I-CAR courses," he added. "Because technicians are often kinesthetic learners, future courses may be centered of specific repair procedures and techniques in shoplike environments, as they become more recommended or even required by certain automakers."

But regardless of materials and techniques, Van Hulle said one constant remains. "As collision professionals, we need to continually ask ourselves: 'Do I have the most current collision service information, equipment and tools, repair procedures and training in my arsenal to repair these vehicles correctly?' Then, if I don't have them: 'How many crash stars am I willing to give up in the next collision?'"

Of course, the correct answer is "none." But then, you have to be service-ready and fully competent.



--###--